chris jordan and american consumerism



After coming across Chris Jordan's work in the Envisioning Change exhibition, I decided to look up some more. He addresses the issue of American consumerism, with portraits of, as he puts it, Intolerable Beauty. I'm especially drawn to the Washington photographs of the life cycle of a car, from shiny machine produced nodules in a parking lot to the colourful sneezes of the junkyard to finally, the raw gorgeousness of varicoloured rent and shredded metal of crushed cars.
| | |
| --- | --- |
| | |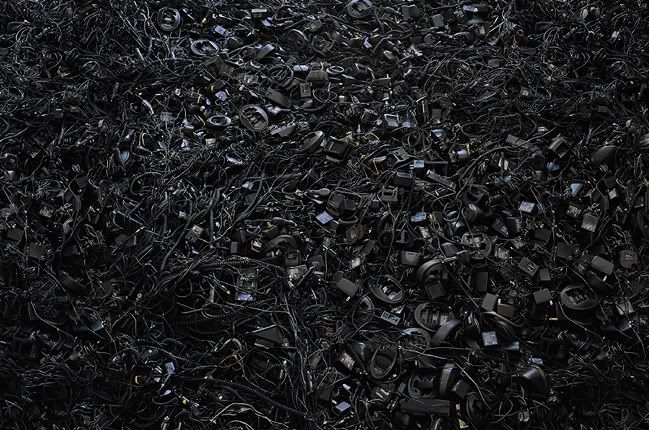 Cellphones and their chargers squirming like Matrix machines. Rubix cube-like shipping containers and indistrial pipings. Can mountains and sandtrack; scrap metal shorn like shredded pork waiting to be sandwiched in a plastic burrito at CHipotle.. Lashings of cigarette butts and diodes reduced to speckles like a Magic Eye picture, although he left the spent bullet casings visible. These images are all at once deeply fascinating and frightening – overwhelming in their sheer scale and sinister like a slow motion apocalypse in progress. Jordan conveys it far better than I ever could -
Exploring around our country's shipping ports and industrial yards, where the accumulated detritus of our consumption is exposed to view like eroded layers in the Grand Canyon, I find evidence of a slow-motion apocalypse in progress. I am appalled by these scenes, and yet also drawn into them with awe and fascination. The immense scale of our consumption can appear desolate, macabre, oddly comical and ironic, and even darkly beautiful; for me its consistent feature is a staggering complexity.

The pervasiveness of our consumerism holds a seductive kind of mob mentality. Collectively we are committing a vast and unsustainable act of taking, but we each are anonymous and no one is in charge or accountable for the consequences. I fear that in this process we are doing irreparable harm to our planet and to our individual spirits.

As an American consumer myself, I am in no position to finger wag; but I do know that when we reflect on a difficult question in the absence of an answer, our attention can turn inward, and in that space may exist the possibility of some evolution of thought or action. So my hope is that these photographs can serve as portals to a kind of cultural self-inquiry. It may not be the most comfortable terrain, but I have heard it said that in risking self-awareness, at least we know that we are awake.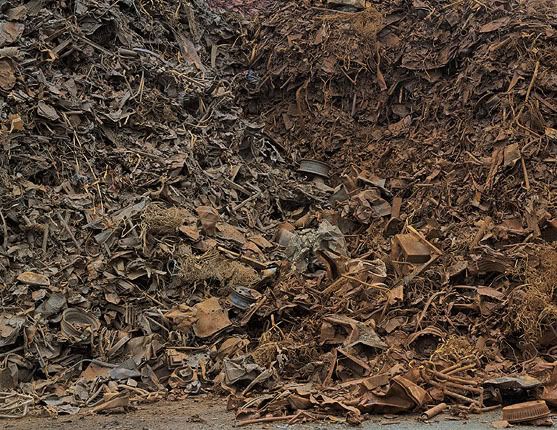 Looking at these, it's not hard to imagine a landscape where earth will be made not of plant and rock remains, or powdered calcified sea creatures, but instead finely crushed metals, glasses and toxins, perhaps sealed with the rubbery stench of melting silicone. That's not really a world I want to live in. Then again, maybe we'll all be happily decamped on Mars, or even ensconced on our own individual satellites – kind of like the most perfect continuation of a Deleuzean control society?
4 Comments so far
Leave a comment