socialism without freedom, intellectualism without elitism?
Freedom without socialism is privilege and injustice, and socialism without freedom is slavery and brutality

I found this at yesyes, and am reminded of a favourite Mikhail Bakunin quote. Pretty different aesthetics, or maybe not, but take your pick.
I thought William Deresiewicz's article The Disadvantages of an elite education was pretty bang on point, maybe too much for comfort. Especially on gating and shutting out the community, as Columbia loves to do – and even explicitly acknowledges. I should probably write about the hunger strike and some of the community rallies at this point. And perhaps being blighted? For now anyways,
At Yale, and no doubt at other places, the message is reinforced in embarrassingly literal terms. The physical form of the university—its quads and residential colleges, with their Gothic stone façades and wrought-iron portals—is constituted by the locked gate set into the encircling wall. Everyone carries around an ID card that determines which gates they can enter. The gate, in other words, is a kind of governing metaphor—because the social form of the university, as is true of every elite school, is constituted the same way. Elite colleges are walled domains guarded by locked gates, with admission granted only to the elect. The aptitude with which students absorb this lesson is demonstrated by the avidity with which they erect still more gates within those gates, special realms of ever-greater exclusivity—at Yale, the famous secret societies, or as they should probably be called, the open-secret societies, since true secrecy would defeat their purpose. There's no point in excluding people unless they know they've been excluded.
And as far as socialism without freedom goes, I wish I knew where this picture was from?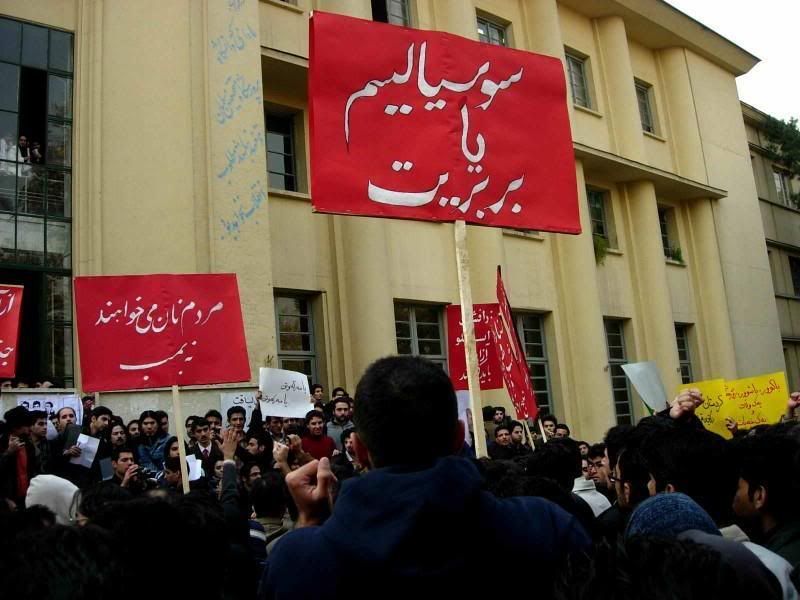 3 Comments so far
Leave a comment