obeying obama: calorie free propaganda?
October 28, 2008, 2:50 am
Filed under:
Uncategorized
| Tags:
anarchism
,
art
,
☭☭☭
,
⚑
,
calorie free propaganda
,
electoral politics
,
emiliano zapata
,
emma goldman
,
obama
,
peter kropotkin
,
posters
,
sds
,
shephard fairey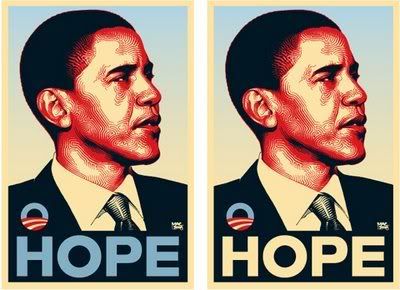 | | |
| --- | --- |
| | |
Street artist Shephard Fairey's – perhaps better known for OBEY and ANDRE THE GIANT – iconic Obama posters are pretty well known by now. I'm seeing a lot of takes on them; here's some I particularly like.

It's tempting to preface any mention of Obama with the usual more of the same, fallacy of the one party electoral system, drinking the proverbial kool aid etc. It seems hard for Democrats to pat themselves on their collective backs for choosing a Black man when it essentially boiled down to a privileging of racism vs sexism (with great checkmark-with-glee leaps ostensibly being made forwards with regards to the former). And yeah I can't pretend to have much faith in the sweeping change he purports to bring – a look at his actual policies makes this pretty clear. What I'm interested in though, is the movement swirling around him – and especially the massive youth mobilisation aspect of it. Seems like for many people, this would be their first immersion in movement politics; after November 5th, where does this energy go? And how can we as radicals, progressives, left-of-democrats and what have you channel this?
| | |
| --- | --- |
| | |
I don't really have any coherent ideas yet; maybe it involves waiting for post-election disillusionment? That does feel overly passive though. These last three, anyway, are from fellow SDSer Patrick St John and definitely my favourites. Clockwise from the left, Emma Goldman, Emiliano Zapata and Peter Kropotkin, with a (presumably anti) Trotsky one for good measure. Here's some change I can actually believe in?
2 Comments so far
Leave a comment