henk hofstra credit crisis
October 29, 2008, 3:02 pm
Filed under:
Uncategorized
| Tags:
art
,
cars
,
credit crisis
,
eggs
,
global warming
,
henk hofstra
,
netherlands
,
public art
,
urban river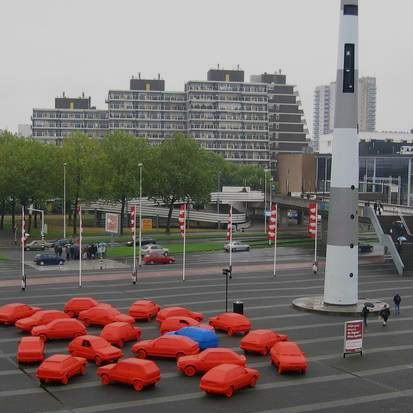 On the 23rd of October, Dutch artist Henk Hofstra created a 20 car pileup in the middle of Rotterdam's Ahoy Square, to symbolise the worldwide credit crisis. Nineteen of these cars are painted red – for in-the-red ledgered debt , with the sole blue car symbolising the few that are still ding okay. Pretty amazing right? And this isn't the first time he's used painted cars – take a dekko at his kilometre-long blue road/ urban river from last April. Eight metres wide, the Het Moleneind road in Drachten, Holland, was painted blue to form an urban river (with the text 'WATER IST LEVEN") in the place of a waterway that used to run there. This year they will start digging a new canal there. The goal was to get it on Google Earth; not sure if that was achieved. [via wooster]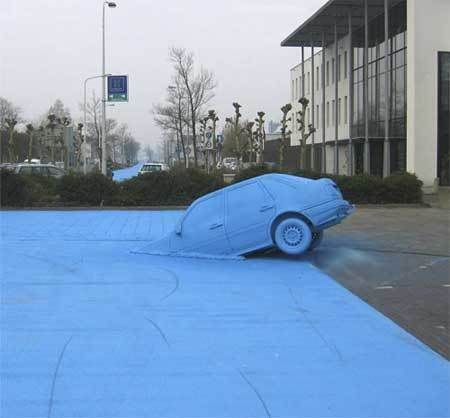 | | |
| --- | --- |
| | |
And that's not all – last year he also put together this excellent (eggcellent? sorry!) installation called "Eggcident" in the Zaailand square in Leeuwarden. It features 8 huge flat eggs with a 30 metre diametre, and ten smaller eggs with diametres of 7.5m for the "white" and 2.3m for the raised yellow "yolk" in the centre. They're all fried of course – perhaps a comment on global warming? That's definitely something that's going to be especially crucial in a country as low-lying as the Netherlands.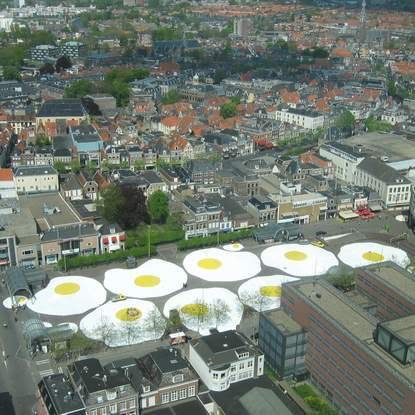 | | |
| --- | --- |
| | |
The installation stayed up for 6 months; Hostfra describes it as the large dull emptiness getting a destination, and hopes it becomes a meeting space for art. He emphasises its public nature, as opposed to something hanging framed on the wall in a gallery. I'm kinda awed at the sheer scale of it – a staggering 14000 square metres, or 14 km! And also impressed that he is able to do things on such a large scale – presumably with the help, or at least consent of local authorities. Putting the 'public' back in public art? Maybe this is the way it should be.
3 Comments so far
Leave a comment