gaza massacre in media
January 1, 2009, 9:00 am
Filed under:
Uncategorized
| Tags:
arab world
,
art
,
☭☭☭
,
bebsi bolitics
,
dubai
,
dubai + middle east
,
gaza
,
gulf news
,
hamas
,
israel
,
latuff
,
massacre
,
media
,
media terrorism
,
ny times
,
palestine
,
solidarity
,
third intifada
,
uae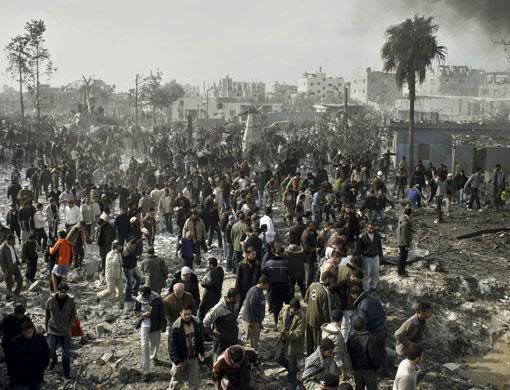 unknown, AP
| | |
| --- | --- |
| | There was a crazy fog today and tonight – lower than I've ever seen it in the daytime-, covering everything with muffled dampness. Kind of like the Arab response, then? Dubai in particular usually drops big money on fireworks displays and the like yet this year festivities have been subdued or, like the fireworks, cancelled. I believe a bunch of other Arab states are doing the same, all in solidarity with Gaza. Shame that's about as far as it will probably extend, humanitarian aid aside. And while people rally to protest at Israeli embassies around the world, here it happens at the Palestinian embassy instead. With no embassy in much of the Arab World, I did wonder where people would mobilise to, save for angry letters-to-the-editor invectives – L'Oreal counters perhaps? Libyans, however took to the Egyptian embassy instead, while others opted for the streets. From what I'm reading, Amman saw upwards of 20 000 taking to the streets demanding an end to the 1994 peace deal with Israel. |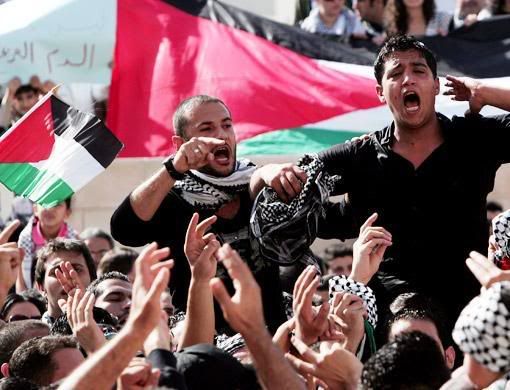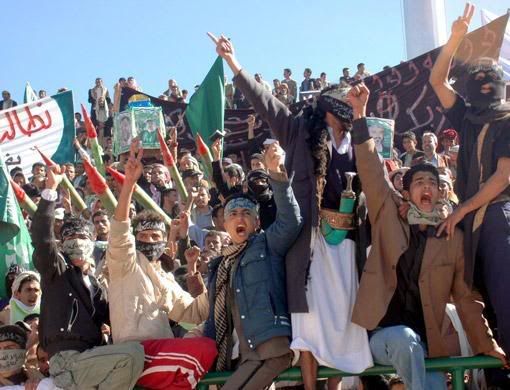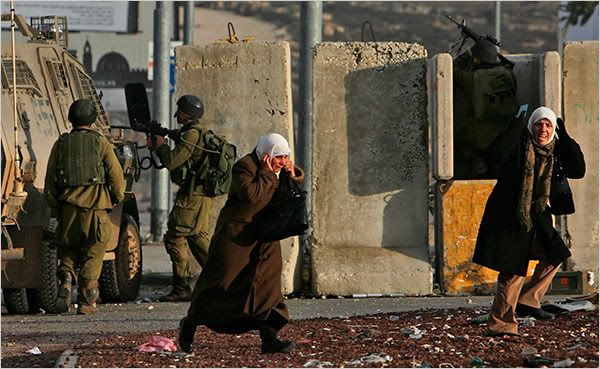 Solidarity protests in (1) Dubai, UAE, (2) Damascus, Syria, and (3) Sana'a, Yemen, AP (b) Muhammed Muheisen, AP, (b) Dan Balilty, AP


And meanwhile the massacre in Gaza continues, 350+ dead and 1500+ injured and counting, right now. I've been reading only local/Gulf media thus far, and was a little shocked when I started browsing the big international papers today. In the news sections themselves, there's not that much difference, save for the placeholder names used – insert 'Occupied Territories' or 'Occupied Jerusalem'. At that, you could say the magnitudinal adjectives differ too – massacre, barbarism, even genocide, as opposed to a more sedate conflict, attacks, or battle. The pictures, though are perhaps expectedly worlds apart. Here, free depiction of mutilated and bloodied bodies, largely from an on-the ground perspective. Places like the NYT however depict things from a far grander, more sweeping -even epic- scale. Death is instead conveyed with limp bodies, nicely greyed over with a coating of mortardust. On this page alone, guess which images are from which? (This one below is frighteningly reminiscent of Chris Jordan's images of consumerist waste products).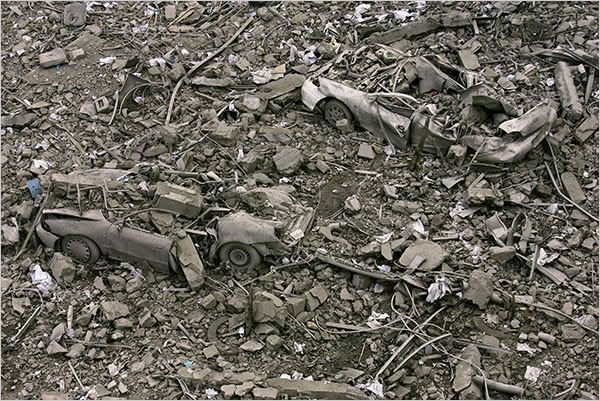 (t) Abid Katib, (b) Rina Castelnuovo, NYT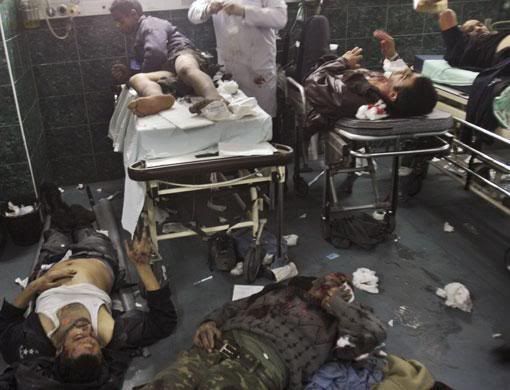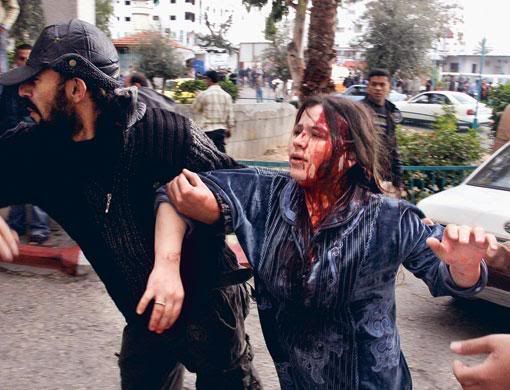 Shifa Hospital in Gaza City, AP
I'm sure there's a good dose of sensationalism around here to speak to the difference in goriness levels, but the scale aspect is interesting. I wonder if these larger scale images don't fit better into a narrative of two sides battling it out in war, perhaps replete with military conventions and niceties, as opposed to one side decimating the other?
Here's some of my favourites from online coverage and art responses, anyway (the first man with a camera gasmask is an oil painting I did a few years ago). These first three cartoons by the Brazillian Lutuff, who has a blog here, replete with an especially interesting interview that touches upon imagery construed as anti-semetic. Below is Gaza Massacre, the Arab League and Gaza, and Israeli Raid on Gaza

xpanSIONISIMO by Jaume D'Urgell

Iwo Gaza by reignfive
Leave a Comment so far
Leave a comment