dispatchwork: the future will eat itself
May 21, 2009, 7:48 am
Filed under:
Uncategorized
| Tags:
berlin
,
breaching the vortex
,
columbia
,
cortex
,
dead time
,
dispatchwork
,
dubai
,
eminent domain
,
flipper
,
gentrification
,
ghost of petrodollar bubble past
,
hardcore
,
jan vormann
,
occupation
,
open the gate
,
punk
,
the future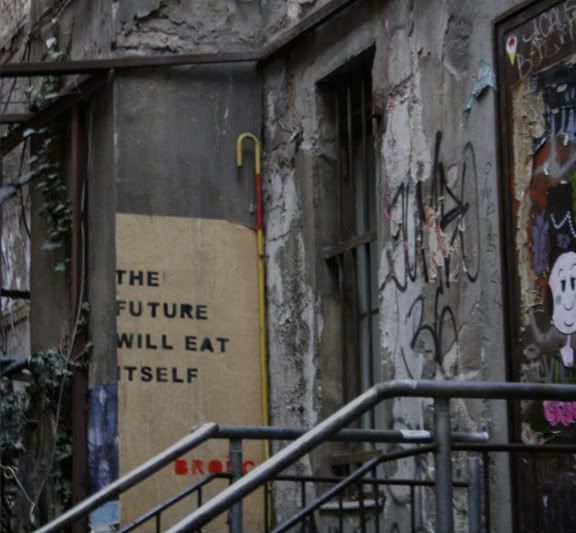 The picture above is from the Berlin that I won't be revisiting in June – I think it's from the alleyway/courtyard leading to Central Kino? Couldn't agree/hope for more perhaps – capitalism is pretty much 'civilised cannibalism' anyways. Ditto with ecocide – I have issues with the "Earth-my-mother" vibe – but it seems that hyperconsumption and death-by fossil fuels looks a bit cannibalistic? And sorcery – I don't remember where from but Paul Bohannon has opined that "men attain power by consuming the substance of others". (For a desktop sticky note tells me so – I sense my life would implode slightly if the program ever crumbles). I've been thinking a lot about magic/sorcery and links to power and art lately following a recent final (and via Zerzan's 'Case Against Art' – hopefully not the beginning of an awkward green-team foray) – more on this later perhaps. Also from Berlin though, this time to patch up the gaps of the past (not that the vortex hasn't been breached already) is this lego brick project I'm really digging: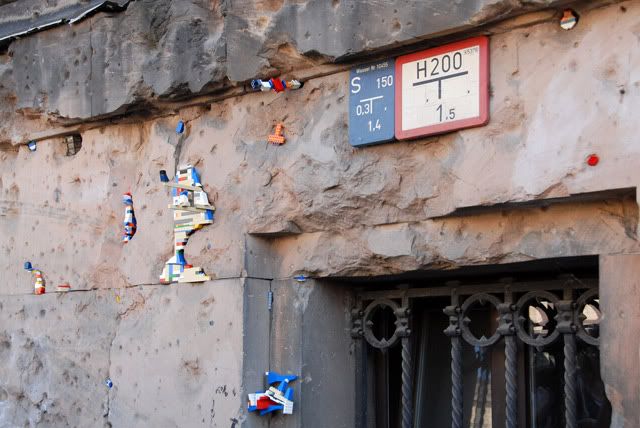 | | |
| --- | --- |
| | |
Dispatchwork anyway is Jan Vormann's newest bid to plug holes in walls with Lego bricks (!). Previous spots have included a village outside Rome and Tel Aviv. In Berlin he largely worked to fill up WWII pocked bulletholes (sure beats ngo-imperial-bandaid work!) in the Humboldt University area, as well as other streets – sometimes helped by passer bys (passers by? huh). And speaking of VORTEX, does anyone remember this ridiculous fists-up video from the Dutch metalversion? First pick for future occupationanthems perhaps? Though depending on the results of today's eminent domain hearing and when the bulldozers start bashing, things could be pretty differently shaped?
I'm also currently working my way through this 1983 Flipper show from some CA cable show. Heart flipper, heart – just the churny/vitriolic caustica I can do with right now. I hear they reformed lately and are doing the Warped tour? Unsure how I feel about childhood-idolised reforming to squeeze cash decades later – those I've seen have been at once amazing and heartbreaking. The last time they reformed was I think circa the passing of CBGBs – I remember it being the Tuesday of a papercrush week and telling myself I'd go see them at some church in January instead. January turned out to be Flipper-the-dolphin film to some youth group I could have cried. The show's scenttracked to some weird "morning offering" incense". I think it's supposed to be energising/uplifting? But it's making my brain queasy-numb and head turn, perhaps not in an entirely unpleasant way. The packet tells me it contains orange, tangerine and tulsi (aka "holy basil") essential oils; perhaps the tulsi explains it as drinking its tea gives similar weirdbuzzy effects. Supposed to be mad healthy/healing though?

Leave a Comment so far
Leave a comment