ginou choueiri yalla al batata
June 1, 2009, 1:57 pm
Filed under:
Uncategorized
| Tags:
art
,
baa baa black sheep
,
beacon
,
beirut
,
commuication
,
genou choueiri
,
jean-luc cornec
,
jim darling
,
junk
,
nursery rhymes
,
potatoes
,
recycling
,
street art
,
telephonic sheep
,
trash

Yeah, amazing. There's something really satisfiying about painting or drawing onto convex surfaces like balloons (or for A levels, surgical gloves), or even just looking at the back of a spoon. Lebanese artist Ginou Chouei, who lives and works in beirut, does just this with her series of potato portraits. I wish I wasn't reminded of those Mr Potato Head 'pets' that you would water and watch their herby hair grow. Of her potatoes she says:
I chose the potato to portray the human face due to it's many striking parallels. Not only is their skin porous like ours but they also come in different colors, shapes and sizes. Potato heads grow, sprout, age, then decay… but they refuse to go without a trace.
Like humans, they come in various forms, from family friends above, to even the esteemed George Bush(el?). They are covered in eyes too – might be interesting to do a surveillance society version? I can't quite tell how she's done them either – painting would make sense, but it almost seems like some kind of photo transfer.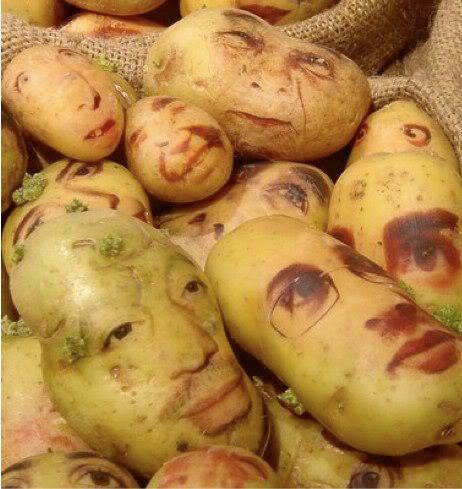 Now that it's summer (Dubai's ridiculously hot, with temperatures hovering about the 50 Celsius mark) I guess the season for spring cleaning may be over (do people really do that?) but this is a pretty sick way to deal with unwanted trash: Jim Darling's sweet trashman in Beacon, NY. He tells Wooster:
"The area that I've been spending time in has multiple abandon buildings, which are amazing. Unfortunately it also has a ton of trash scattered between the buildings. I decided to clean up the area by dragging all the junk into one location and making something out of it. With a little help I pulled four beds, six tires, and a large amount of scrap into one consolidated area… The trash that was scattered everywhere, was transformed into one giant character who found a great place to relax."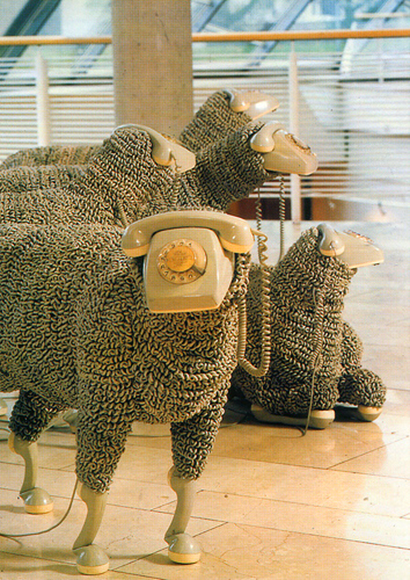 And finally, Jean-Luc Cornet's telephonic sheep, with their oldstyle dialable heads, reciever feet and cable(knit??) bodies. And fairly old too – from a 2006 exhibition in Frankfurt's Museum für Kommunikation. Nice to see that the proverbial black sheep is included. Though I hear that the nursery rhyme is now often changed to "Baa baa rainbow sheep" these days, which is interesting, especially with the sometimes genderswtiching of the 'little boy who lives down the lane'. I'll be waiting for the addition of 'cis', then.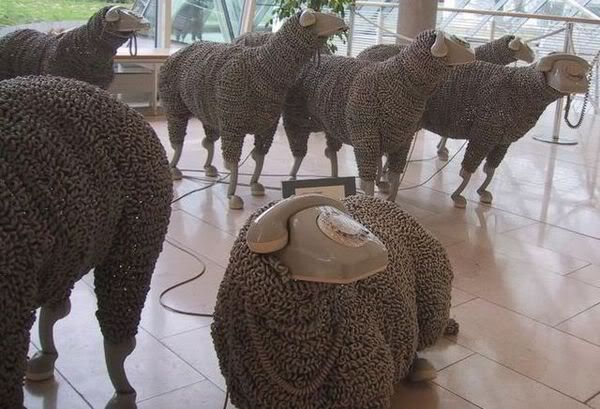 3 Comments so far
Leave a comment