br1-nging orientalism back in turin
July 22, 2009, 2:51 pm
Filed under:
Uncategorized
| Tags:
animation
,
anti-feminista
,
art
,
blu
,
BR1
,
exoticisation
,
fetishisation
,
hijab
,
italy
,
muslim
,
muto
,
orientalism
,
patriarchy
,
stopmotion
,
street art
,
the other
,
turin
,
veil
,
wall
,
women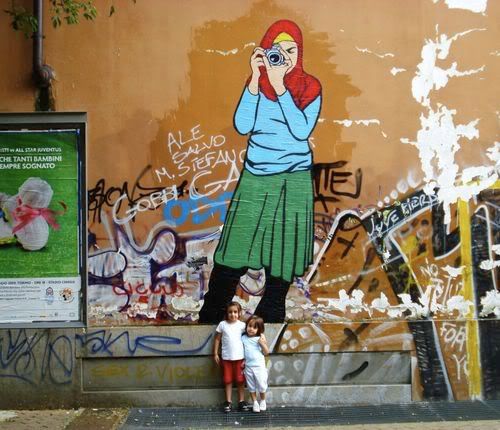 I can't decide if these pieces – by BR1 in Turin, Italy – are really rad, or just another rehashing of orientalist tripe in street art form? The artist deals with
"the representation of Muslim women and their social condition… I would like to make people know that there is nothing strange with this particular subject: Muslim women are equal if compared to Western women. My Muslim women are represented in daily life situations: they are mothers, grandmothers and daughters, smoking, taking pictures and smiling. My message is: pointing out that Muslim women have the same needs and necessities of the majority of Western women. Certainly, the only exception is the veil. The veil changes in different countries, and here comes the sociological aspect of my work: I am very careful in rendering the different types of veil, the Maghrebi veil, the Afghani burga and the Iranian chador.
Great to see Muslim women are equally capable of living up to the patriarchal ideals of womanhood, then. Replete with the same universal needs and necessities – childcare, raising families, taking pictures and smiling? Nevermind seeing any Muslim men (not exotic or fetishisable enough? too dangerous?), it would have been nice to see hijabis in other situations outside the traditionally feminised. Like perhaps working, or, I don't know, holding AK-47s? Then again, his Western women probably wouldn't be able to do these either. It's interesting that he notes that "the veil changes in different countries", and looks to carefully depict several variants. And also that the veil remains a constant – would an unveilled woman not be Muslim/Otherable enough I wonder?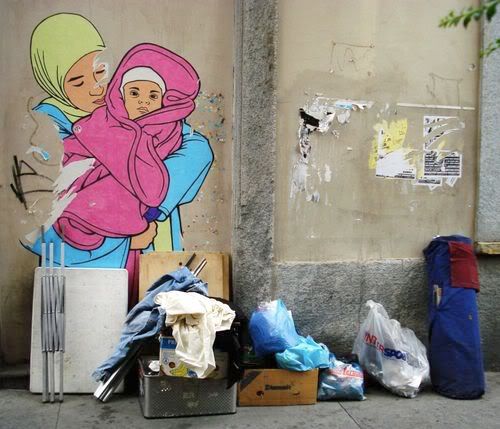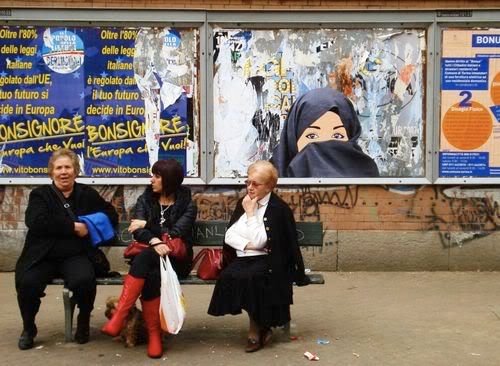 The women depicted all seem to have had a healthy dose of the skin whitening Fair and Lovely, to boot- perhaps they look more amenable this way? He continues:
In my opinion, nowadays it's crucial to conceive street art as a tool to spread social messages. Moreover, I made a deep research and I discovered that I am the only artist, in the street art movement, that deals entirely with this topic. Isn't it strange? In general, the woman is the best source of inspiration for artists, why Muslim women wouldn't be the same? I would like to create a network of artists of all nations, about this subject, eventually to compare the different viewpoints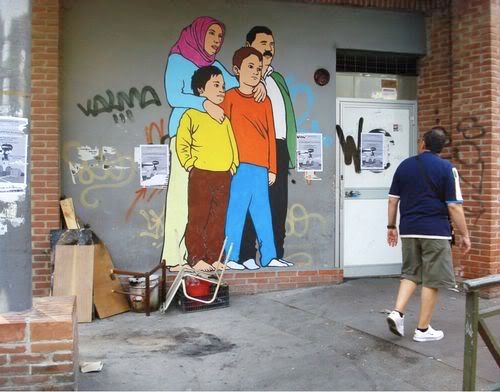 It seems his deep research didn't get him too far though – I can think of a fair few who do this, with the brilliant Princess Hijab being one of the first that pop to mind. Worth doing some sort of series perhaps? Unrelatedly, here's something that's incredibly sick – MUTO, a wall painted stopmotion animation by BLU, done in Buenos Aires and Baden. That's right, wall-painted – as in the bricky equivalent of those old handdrawn flipbooks animators used to use.

.
5 Comments so far
Leave a comment