stroboscopy, editing and the attention theory of value
October 6, 2010, 8:21 am
Filed under:
Uncategorized
| Tags:
3d
,
after henry
,
attention theory of value
,
cinema
,
dominic angerame
,
editing
,
experimental
,
film
,
harold edgerton
,
joan didion
,
jonathan beller
,
strobographic cinema
,
stroboscopic photography
,
stroboscopy
,
synaesthesia
,
the new inquiry
,
writing
,
xerox
,
zines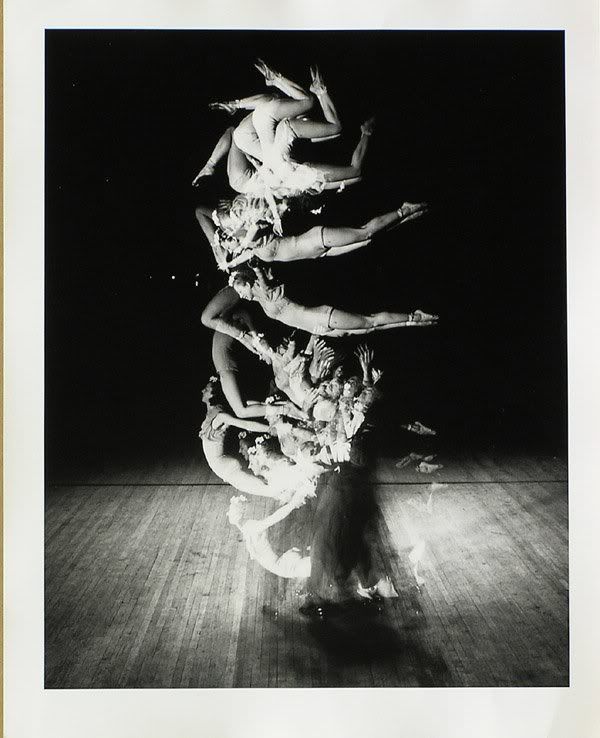 From The New Inquiry, Joan Didion from "After Henry":
"What editors do for writers is mysterious, and does not, contrary to general belief, have much to do with titles and sentences and 'changes.' The relationship between an editor and a writer is much subtler and deeper than that, at once so elusive and so radical that it seems almost parental: the editor … was the person who gave the writer the idea of himself, the idea of herself, the image of self that enabled the writer to sit down alone and do it."
I like this a lot. Stroboscopic photography, too, is fascinating. From what I understand, the camera';s shutter is left open, and a strobe light is set to the desired frequency. A picture is essentially taken, and imprinted onto the same frame every time the strobe light flashes. It seems well suited to capturing movement; human bodies dancing seem especially beautiful.
Following Didion, I suppose the strobe light is the editor, to the dancer-as writer. Illuminating, clarifying, revealing: not just in the immediate moment but the same kind of stroboscopic image of what a piece, and the writer's movements through it, could be? There's a strange and lovely jouissance here too. Or perhaps it is that everything shot; penetrated, if you will, with a mechanic lens or kino-eye has the same sense of heightened transgression that's only made undeniably apparent in this kind of image?
(more…)