dispatchwork: the future will eat itself
May 21, 2009, 7:48 am
Filed under:
Uncategorized
| Tags:
berlin
,
breaching the vortex
,
columbia
,
cortex
,
dead time
,
dispatchwork
,
dubai
,
eminent domain
,
flipper
,
gentrification
,
ghost of petrodollar bubble past
,
hardcore
,
jan vormann
,
occupation
,
open the gate
,
punk
,
the future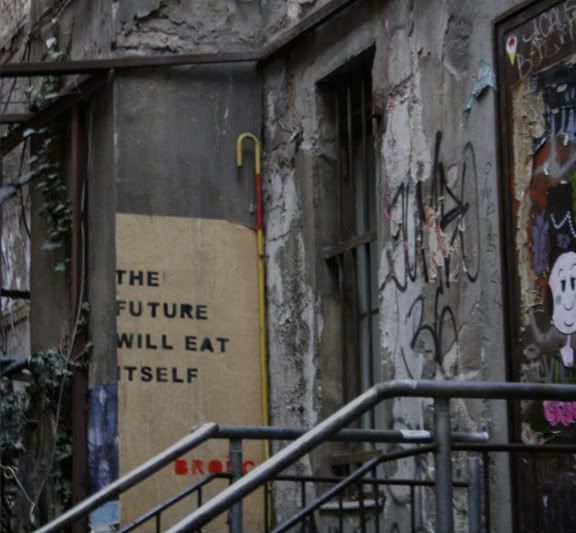 The picture above is from the Berlin that I won't be revisiting in June – I think it's from the alleyway/courtyard leading to Central Kino? Couldn't agree/hope for more perhaps – capitalism is pretty much 'civilised cannibalism' anyways. Ditto with ecocide – I have issues with the "Earth-my-mother" vibe – but it seems that hyperconsumption and death-by fossil fuels looks a bit cannibalistic? And sorcery – I don't remember where from but Paul Bohannon has opined that "men attain power by consuming the substance of others". (For a desktop sticky note tells me so – I sense my life would implode slightly if the program ever crumbles). I've been thinking a lot about magic/sorcery and links to power and art lately following a recent final (and via Zerzan's 'Case Against Art' – hopefully not the beginning of an awkward green-team foray) – more on this later perhaps. Also from Berlin though, this time to patch up the gaps of the past (not that the vortex hasn't been breached already) is this lego brick project I'm really digging: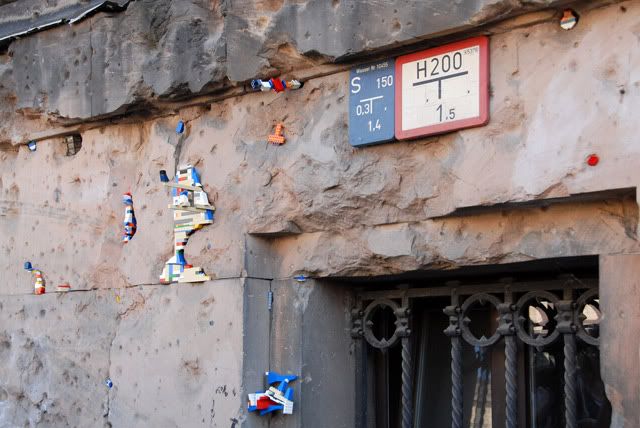 OPEN UP THE VORTEX LET US IN
a, anti, anti c(o)pitalista
April 17, 2009, 10:39 pm
Filed under:
Uncategorized
| Tags:
anarchism
,
anti-police brutality rally
,
☭☭☭
,
⚑
,
columbia
,
every heart is a revolutionary cell
,
hakim bey
,
insurrection
,
new school
,
nyu
,
occupy everything
,
peter lambourne wilson
,
pigs
,
police brutality
,
take back the night

Off the sidewalks, into the future! Swoooosh I guess we're rupturing the spacetimecontinuum vortex now? As per usual an anti-police brutality rally was met with, surprise, more "police brutality". Even with this it's worth thinking about what "police brutality" looks like – or doesn't look like at a majority white, privileged space like the New School. NYPD has a community affairs unit, who knew? It's starting to feel like an insurrectionary circuit is being traced from union square via new school to washington square park and back. How do we abolish exchange? Perhaps our vegan potlucks in the park should become mutualist potlatches. Maybe we should start eating the pigs? Rev Billy showed up to preach but I guess we weren't all buying what he was selling. Has even anti-commercialism been commodified? And how does his hair defy gravity so bouffantly? I want to know.
is gaza genocide? darfur, palestine and the politics of naming
January 7, 2009, 10:52 pm
Filed under:
Uncategorized
| Tags:
academic
,
academic essay
,
anthropology
,
☭☭☭
,
bebsi bolitics
,
columbia
,
darfur
,
denial
,
ehud barak
,
ethnic cleansing
,
eyal weizman
,
gaza
,
gaza strip
,
genocide
,
ICC
,
idf
,
israel
,
mahmood mamdani
,
massacre
,
palestine
,
politics of naming
,
semantics
,
wall
,
west bank
,
zionism

Is Gaza a genocide; is Darfur a genocide? Where do you draw the lines between 'land conflict', 'ethnic cleansing' and genocide', and what are the political value(s) of doing so? And how does something get designated as genocide anyway – is it, legally, only when the ICC at the Hague says so?
These are a couple of things I've been thinking through lately, having just taken a fairly broad based intro course with Mahmood Mamdani, which ended by looking at Darfur. To be fair, his somewhat controversial views did not come out explicitly in lecture, but having looked them up, I found myself agreeing, at least in part. With Darfur, as with Palestine I admittedly know only smidgens of the context from what I have read, but even in a vacuum, there's value in the consideration that naming something a 'conflict' or 'genocide' has very real political affects. (The above is a real ad by the way, not a culturejam riff on Miranda July as I first thought. It ran in the New York Times Magazine, on April 10, 2008).
It's especially interesting then as I just wrote a paper on said politics of naming in both Darfur and Palestine. (And 'interesting' is such a strange go-to-in-order-to-highlight word, one that I awkwardly cycle with 'fascinating', and even the aggrandising 'significant'. Because it is not strange, but indeed heart wrenching and what else can you do in powerlessness but a detatched and masqued quasi-academic commentary?