dash snow rest in power
July 22, 2009, 8:44 pm
Filed under:
Uncategorized
| Tags:
armani
,
art
,
chanel
,
coffee and cigarettes
,
dash snow
,
death
,
dies
,
graffiti
,
heroin
,
hong kong
,
irak
,
mafia
,
mario sorrenti
,
muse
,
nyc
,
overdose
,
sacer
,
stephen marche
,
street art
,
ZEVS
| | |
| --- | --- |
| | So Dash Snow aka Saker Irak died of an overdose recently, RIP. Some say he's already being Basquiatised, and probably not a minute too soon. Stephen Marche fittingly points out in a fairly caustic article, "Basquiat's hedonism fuelled his creativity, but for Snow hedonism was the creativity." He's already not one, but two four letter words and surely an adjective (or more fittingly, adverb) can't be far off? Photos aside I couldn't dig much of his art but as a person(a) he's fascinating – for me maybe the ultimate embodiment of the downtown art scene today. |
a bag of blow, and some love to go
cremation and when the grass isn't greener
June 30, 2008, 6:38 am
Filed under:
Uncategorized
| Tags:
art
,
bio art
,
chlorophyll prints
,
cremation
,
dan harvey
,
death
,
ethics
,
grass
,
grass photography
,
heather ackroyd
,
wick effect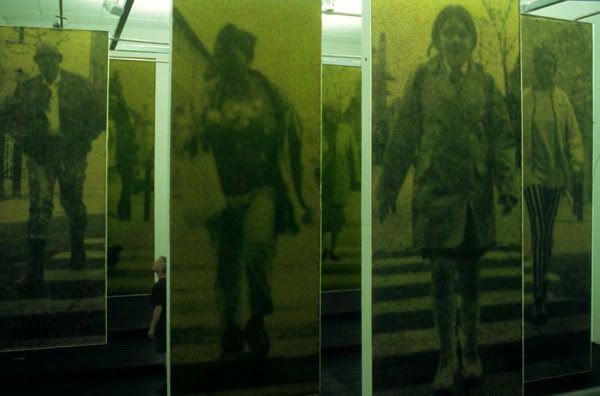 This might be some of the tightest stuff I've come across in a long time [via io9]. Artists Heather Ackroyd and Dan Harvey have discovered and developed a photographic technique which essentially imprints grass with an image. Science class taught us that grass is green because it produced chlorophyll from sunlight right? So it follows that when denied said light – with a shovel left on a lawn for example- the grass on the other side isn't greener but rather various shades of faded. They discovered the technique in a similar way – an installation which featured a wall of living grass in which someone had left a ladder leaning against the wall. Underneath it was grass of a slightly different colour. Playing around with negative light projection, they found the grass could produce wonderful ranges of tonalities, replicating a photographic image. Problematic was the fact that it faded after a few days.
MORE: CREMATION, AND HOW THE GRASS STAYED GREEN