tufts versus blue cross
January 7, 2009, 12:49 am
Filed under:
Uncategorized
| Tags:
blow by blow
,
blue cross
,
classism
,
cricket
,
dctors
,
fair wage
,
healthcare
,
HMO
,
immigration
,
insurance
,
medicare
,
pay
,
semantics
,
single payer
,
tufts
,
tufts medical center
,
universal healthcare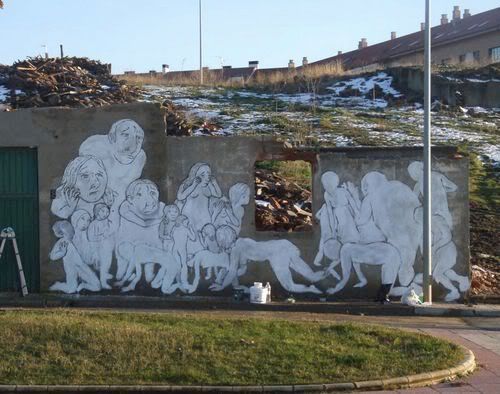 This new mural in Salamanca, Spain is pretty sick. And there's more sickness – of the not so positive kind – brewing in Boston, where Tufts Medical Centre will break with Blue Cross, the state's largest insurance provider, over doctor pay. That is, Tufts says that Blue Cross refuses to pay their doctors a "reasonable rate". My first thought is – how much more can they want? I don't know specific wage breakdowns, but doctors presumably already earn a whole lot more than the average person, who most likely can't even afford insurance in the first place. Those left in the lurch by this announcement meanwhile have a couple of weeks to scramble, and choose between changing hospitals or changing providers. If they can even afford to keep their insurance going these days, that is. It's a little hard to reconcile with wanting to support fair wages – yet do these even exist for doctors?